On 6th of July, 2000, FIFA decided that
Germany
should be the country to host the 2006 edition of World Cup. This decision was made in a hard political context. It was called the biggest sportive - diplomatic decision of the year. At the start line, 5 countries had the desire to be selected: Brazil, Marocco,
England
,
Germany
and South Africa. But, surprise: Brazil gave its support to South Africa. Only four countries remained in competition.
England
lost any chance at
Euro 2000
, when its fans destroyed all the chances for the qualification. Marocco is too little in order to be in a serious competition with South Africa and
Germany
. In the final stage of voting, only two countries remained: South Africa and
Germany
. The Romanian BBC news radio specified that the winner must be South Africa, because: 1) Africa never hosted a World Cup and 2) the boss of FIFA, from Switzerland, needs the support of Africa in order to be revoted president of FIFA. It was a surprise for everybody to see the winner. It's true, the quality of pictures at South_Africa's presentation was very bad, and all the mass media was against this country. It seems that Oceania had the final word in this matter. There were 12 votes for
Germany
, and 11 for South Africa.
Germany: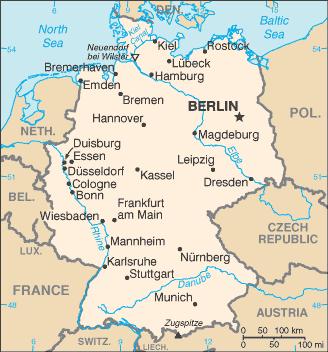 Knock-out Round:
| | | | |
| --- | --- | --- | --- |
| Date | Team 1 | Team 2 | Score |
| 2006-06-24 | Germany | Sweden | 2-0 |
| 2006-06-24 | Argentina | Mexico | 2-1 |
| 2006-06-25 | England | Ecuador | 1-0 |
| 2006-06-25 | Portugal | Netherlands | 1-0 |
| 2006-06-26 | Italy | Australia | 1-0 |
| 2006-06-26 | Switzerland | Ukraine | 0-3 |
| 2006-06-27 | Brazil | Ghana | 3-0 |
| 2006-06-27 | Spain | France | 1-3 |
Quarter-finals:
| | | | |
| --- | --- | --- | --- |
| Date | Team 1 | Team 2 | Score |
| 2006-06-30 | Germany | Argentina | 4-2 |
| 2006-06-30 | Italy | Ukraine | 3-0 |
| 2006-07-01 | England | Portugal | 1-3 |
| 2006-07-01 | Brazil | France | 0-1 |
Semi-finals:
| | | | |
| --- | --- | --- | --- |
| Date | Team 1 | Team 2 | Score |
| 2006-07-04 | Germany | Italy | 0-2 |
| 2006-07-05 | Portugal | France | 0-1 |
Final:
| | | | |
| --- | --- | --- | --- |
| Date | Team 1 | Team 2 | Score |
| 2006-07-09 | Italy | France | 5-3 |